Alex Cherian | Member #742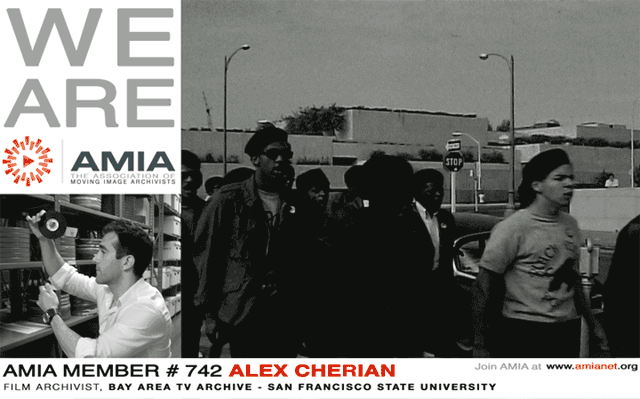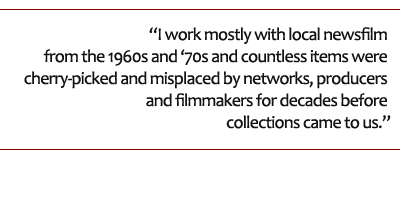 Tell us about the GIF footage in your We Are AMIA ad.
In October 1967, co-founder of the Black Panther Party Huey P. Newton was arrested as a suspect in the killing of Oakland Police Department Officer John Frey. This KPIX-TV footage from August 26, 1968, demonstrates the fierce support for Newton during his trial at the Alameda Courthouse. Newton was convicted of voluntary manslaughter and sentenced to 2-15 years in prison. This decision was reversed in 1970 by the California Appellate Court and we have newsfilm of Newton being released from the courthouse on August 5, 1970, to an ecstatic welcome – two years after crowds there sang: "Set our warrior free! Free Huey! Black is beautiful!" The Black Panther Party helped to revolutionize civil rights in the Bay Area and we're excited to release part of this legacy online.
You describe yourself as a "forward thinking" film archivist. How do you foresee the future unfolding for archives?
I think innovations in technology, combined with growing demand for video when teaching core curriculum, will spike academic interest in moving image collections. Media archives are already well positioned to play a key role in facilitating access to this heritage.
What equipment or software can you not live without?
Without my 16mm film splicers, I might as well start pushing up daisies. Four years ago, I would've said I couldn't function without Final Cut Pro 7. But I've learned the hard way that relying too heavily on proprietary software is one recipe for a nervous breakdown.
Do you have a story of "the one that got away" – something you wish you could have saved? Why does that motivate you?
Far too many stories. I work mostly with local newsfilm from the 1960s and '70s and countless items were cherry-picked and misplaced by networks, producers and filmmakers for decades before collections came to us. Only last month I was given 25-year-old paperwork which apparently confirmed the location of newsfilm featuring the Reverend Dr. Martin Luther King, Jr. speaking at Santa Rita Jail in January 1968. When I wound through the 16mm film reel in question, I found a strip of yellow leader where the story should've been, which reads: "RESTORE 'King' HERE." I could have spit! The search continues.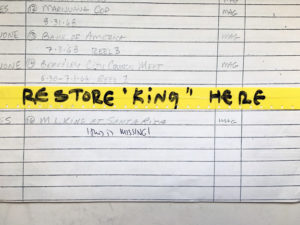 __________________
This is the third in a series of images highlighting AMIA members and the work we do. There's more to come!
Interested in participating in the next series? Email us!