Lindsay Zarwell | Member #465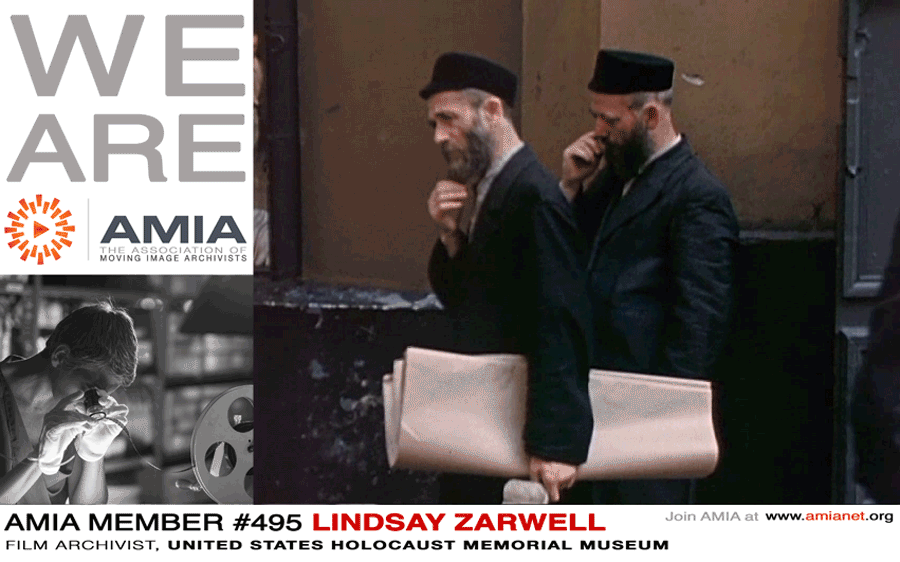 The US Holocaust Memorial Museum houses an incredibly important collection. How have you and the Museum been able to manage the collection?
Over the past 20 years, our small staff has built a world-class archive from the ground up. The Steven Spielberg Film and Video Archive of the United States Holocaust Memorial Museum is cared for by three dedicated staff members who manage all aspects of the archive's work: a director, an archivist, and a program coordinator. Together, we acquire, document, and make accessible historical footage from sources throughout the United States and abroad. We strive to find innovative ways to expand the Archive's reach to an ever-larger public in the service of increased awareness of Holocaust history. We remain focused on immediate and vital acquisition and preservation projects and work to ensure the long-term availability of the Museum's audiovisual collection of record on the Holocaust. We also work closely with our exhibitions team to support the themes of special exhibitions, and maintain the audiovisual programming in our permanent exhibition.

Are there articles, images, films, audio elements that you seek, but have not found?
Yes, there are thousands of objects and films we know are in private hands or vaults which document the experiences of the Holocaust and World War II. We collect every day.
How does new material come to you?
Many private collections are unsolicited – people call or write USHMM or hear about our work from our public programming. We perform targeted film research at archival repositories – both nationally and internationally – and acquire copies of audiovisual materials or partner to preserve unique films in need of repair and transfer.
What have been some of the most important discoveries made in your preservation efforts?
Some of our most significant holdings are home movie collections from amateur filmmakers. We understand how much memory and history is bound up in personal collections, and are deeply grateful for the opportunity to safeguard family films for posterity. For us, it is important to capture the story of individual people, not only to bear witness, but also to reveal the truth about the horrors of the Holocaust in the hopes of a more just future. I cannot explain how meaningful it is to work on these films, and to project the vibrant lives of people, smiling and working and at play. By offering a unique and intimate "street-level view" of these events, these films contribute to a more multi-dimensional and nuanced reading of Holocaust history and support new scholarship that privileges the voice of the victim and the witness as a counterpoint to the view of events told solely by the perpetrator.
Here's just one anecdote: One survivor of Nasielsk is Maurice Chandler, who lived through the war in hiding, immigrated to the United States, and is 90 years old. In December 2011, Maurice's granddaughter Marcy decided to search the Internet for information about her grandfather's hometown. She came across the Kurtz family movie in our film catalog on the USHMM's website, and to her amazement she recognized her grandfather as a boy, smiling and jumping in front of David's camera, trying to be seen within the mass of other children. Marcy describes the experience, "There's my grandfather's face. His smiling, 14-year-old face. I would know it like I would know my own face in the mirror. But I've never seen a picture of my grandfather when he was 14 years old." The Kurtz and Chandler families have since met many times and formed an enduring emotional bond based on David Kurtz's film record of Nasielsk in 1938. As the film donor says, "Now that I've sat with Morrie, and have watched the film with him, when he can identify people, and tell us anecdotes about their lives, it's brought the town into memory again as a place of life instead of just a place of death."
We are strongly committed to reconstructing, preserving, and making accessible the Claude Lanzmann's SHOAH outtakes collection, which is of great significance for scholars, documentary producers, and the wider public. The scope, variety, and detail provided in these previously unseen witness accounts challenge our understanding of the 1985 film SHOAH and its maker Claude Lanzmann. A new volume with work by over a dozen scholars will be published later this year, focusing on the new perspectives offered in this outtakes collection at USHMM.

How do you and your team choose what's made public and/or available?
We are a public institution and it is our goal to provide wide access to our holdings, in person and online. Catalog descriptions are available with streaming video if copyright permits. We encourage donors to transfer copyright to USHMM; some choose to maintain rights and determine use for third party requests. Archival partners retain copyright as well, but in many cases we have agreed to display or stream their films online (no downloading) in an effort to increase access and research use.