Ted Ryan | Member #265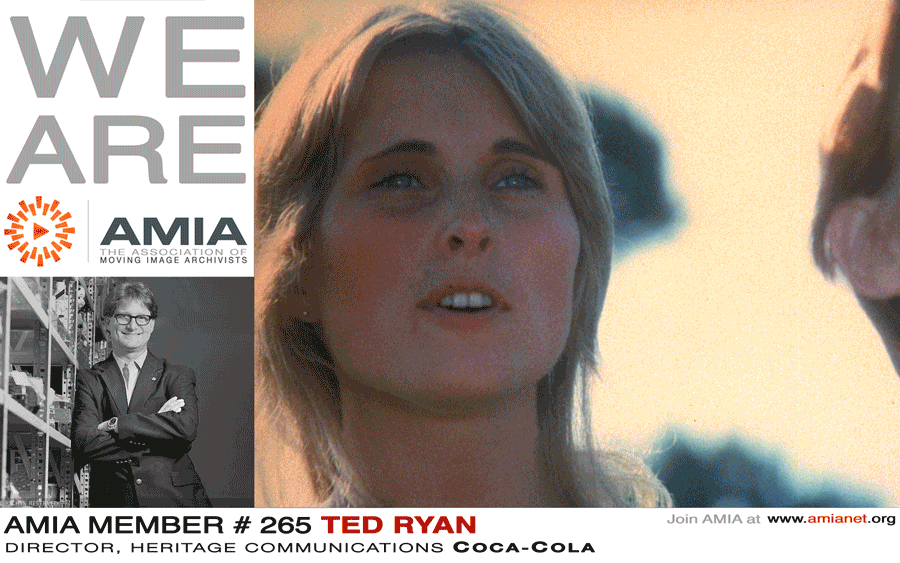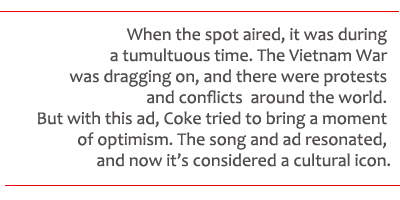 Tell us about the GIF footage in your We Are AMIA ad.
The spot, "I'd like to buy the World a Coke," premiered in 1971, and is considered one of the most famous spots of all time. ITV ranks it as one of the Top 10 commercials of all time.
The genesis for the campaign was a song, inspired by the travails of ad man Bill Backer on trip to London. After his flight was grounded because of fog in Shannon, Ireland, a city with no accommodations available for the weary, frustrated travelers, many spent the night sharing a room with a stranger or at the airport. The next morning, Bill saw passengers clinking Coke bottles and laughing. And as many ad jingles have started, he wrote down a phrase on a napkin: I'd like to buy the world a Coke and keep it company. That became a song and then a commercial.
When the spot aired, it was during a tumultuous time. The Vietnam War was dragging on, and there were protests and conflicts around the world. But with this ad, Coke tried to bring a moment of optimism. The song and ad resonated, and now it's considered a cultural icon.
Several years ago, Coca-Cola donated all its original ad elements to the Library of Congress, after having them restored and digitized at 2K. But this ad in particular was pulled out again recently because with advancing technology, we were able to rescan it at 8K, do some color correction, and so the GIF image in the AMIA ad is from that restored version from earlier this year (2016). We felt the cultural legacy of the ad deserved the best we could give it.
Tell us about your archive – what's in it?
We are a corporate archive. We exist to give value back to the company. Founded in 1939, it's one of the oldest corporate archives around. From very early on, Coca-Cola has been cognizant of its history – the Coke logo and bottle shape are some of the most known icons in the world. And the company realizes that's important to keep. The archive includes physical paper, 3D objects (e.g., bottles, trucks), audio-visual elements, industrial and sales/training films, and of course ads. We've digitized 27,000 spots and have another 27,000 to do! The historical, informational and cultural payback is the ROI for our archive. There is a large amount of 3D memorabilia and artwork that are the bread and butter of the archive, which are repurposed for licensing uses. But mostly we exist for the marketers – as a resource for learning more about how they did things and why.
You've been managing the Coca-Cola archives for 19 years. What have been some of the most significant changes in technology to affect the work you do?
The biggest change has been the rise of social media, and the constant desire for content to feed those social networks. Rights plays a huge role, so we try to find content and ways to reuse the archives for social media and our Heritage site – which is the most viewed section of the website behind the jobs site.

What do you love most about your job?
I love the variety. Every day I encounter a different question or a different topic. For example, one day I could be talking to a group about Coke red and why the color and how that came to be. Another day I could be asked to compare advertising over time about one of Coca-Cola's other companies (e.g., Minute Maid). And of course I love the A/V element. I was an A/V archivist at the Atlanta History Center before joining Coca-Cola.

Do you have a story of "the one that got away" — something you wish you could have saved? Why does that motivate you?
The first Polar Bear ad – which was done in 1993 – was on a computer that can't even be read any more. It was rendered to tapes and there are no outtakes. The Mean Joe Green ad was edited on tape. And the very first TV ad for Coke – which aired on live TV on Thanksgiving Day 1950 – we don't even have a viable copy because there was only telecine around then and it wasn't a produced spot. I wish they were all on film.
For more about "I'd Like to Buy the World a Coke" commercial, visit http://www.coca-cola.co.uk/blog/id-like-to-buy-the-world-a-coke