Yasmin Dessem | Member #243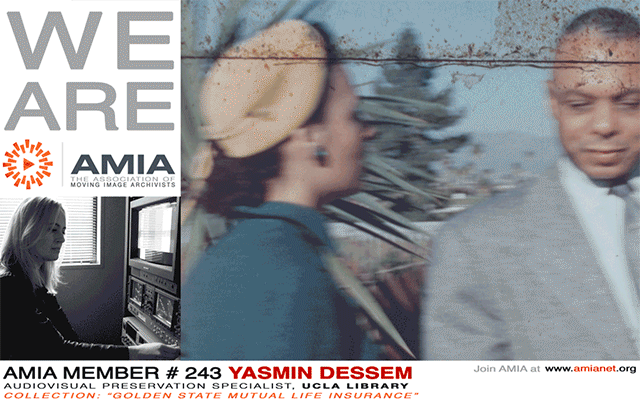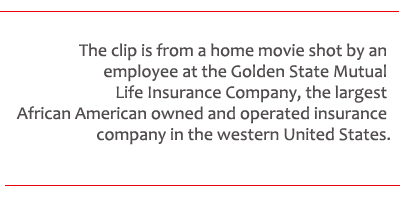 Tell us about the GIF footage – "Golden State Mutual Life Insurance" – in your We Are AMIA ad.
The clip is from a home movie shot by an employee at the Golden State Mutual Life Insurance Company, the largest African American owned and operated insurance company in the western United States. The Golden State Mutual collection materials, housed in UCLA Library's Special Collections, have an immense cultural value in telling a fuller and more immediate story of the African American experience.
This film is one of four home movies preserved through the National Film Preservation Foundation (NFPF) this past year and documents a circa 1953 tour of the company's West Adams home office in Los Angeles shortly after it was built, providing a rare glimpse of staffers at work and a view of office interiors. A number of well-known African American entertainers and civil rights activists make an appearance, including singer and actress Lena Horne, who is seen in the GIF with the co-founder Norman Houston.
Today the West Adams home office is designated as #1000 on the list of Los Angeles Historic-Cultural Monuments. Founded in 1925 by William Nickerson, Jr., Norman O. Houston and George A. Beavers, Golden State Mutual provided insurance coverage to African Americans, a group that was routinely denied coverage and labeled an "extraordinary risk." The company did more than provide the stability of insurance coverage—it provided professional employment opportunities and acted as a cultural nexus for its community for over eight decades.
What drives your passion for what you do?
The best part of this job is encountering undiscovered stories. I sometimes find myself listening to or watching content that no one has heard or seen since around the time it was first recorded. There's a huge responsibility to make sure the material is cared for to the best of our ability and transferred at the best quality. So many of the moving image and sound materials in library collections are largely unknown. Our collections at UCLA Library range in size from one box to over 3,000 boxes, and we have over 3,200 archival collections listed on the Online Archive of California. That's not counting circulating materials or backlog collections, and we're continually acquiring collections. Time and budgetary constraints limit the level of detail that can be devoted to describing each collection. In the very best case, archival processors and catalogers rely on accompanying documentation and labels, however incomplete they may be, to identify content on the item level.  Other times, materials can only be described more generally. Once an item comes my way for review or digitization, it may be the first opportunity for us to learn more about its actual content since it was first acquired.
What do you think drives the restoration/preservation community?
The need to advocate for the materials in our care and to ensure that they can be safely stored, accessed, discovered, enjoyed, and sustained.
Do you have a story of "the one that got away" – something you wish you could have saved? Why does that motivate you?
At this point there's no single recording or film that I feel slipped away. It's more that I function with a continual awareness (and yes, dread, but also excitement!) of all the collection materials we have yet to reach. Every individual item in our collections has the potential to be the one that got away—the one that wasn't digitized soon enough, that wasn't treated soon enough, etc. That's a huge motivation for everything we do ultimately.
What advice do you have for people interested in pursuing a career in preservation?
Try to get as much hands-on experience as you can, in as many areas as you can. Preserving moving image and sound collections requires knowledge in so many different areas, ranging from computer programming and digital preservation to film handling to repairing obsolete playback equipment to caring for associated paper based collections. It's important to be comfortable working with a variety of formats and technical areas, to actively engage in learning new skills and to be flexible. For example, in the course of one year in this field I was migrating LTOs, getting a ¼" audio reel-to-reel deck working, and vacuuming moldy radio transcription discs.